As the pandemic threat recedes, museums have opened again and are tasked with getting patrons back in the door. Recent studies show that while audiences are excited to return in-person, many are still seeking ways to connect digitally.
---
How can you leverage digital content to increase your museum attendance? There's no doubt that virtual experiences – and the public's opinion of them – have evolved significantly since March of 2020. At the beginning of the pandemic, museums were turning to technology as a quick replacement for in-person experiences.

Museum audience behaviors adapted as the crisis evolved, and so did the way museums were using technology to reach them. Some museums added events that welcomed in-person visitors, but there were still virtual alternatives. Conferences and fundraising events also offered both virtual and in-person options for participants. And, by offering interpretive content and enhanced digital educational tools and insights, institutions were suddenly no longer limited to local, regional, or even national audiences as their digital reach expanded to attract fans from around the globe.

Museums have realized the power of digital content to draw visitors, expand reach, and complement in-person exhibitions. Borne out of necessity, digital experiences like virtual tours, chatbots, and augmented reality are no longer merely ad-hoc replacements for the real thing; these new tools are here to stay as they inspire donations, pique interest in visiting, and enhance educational value.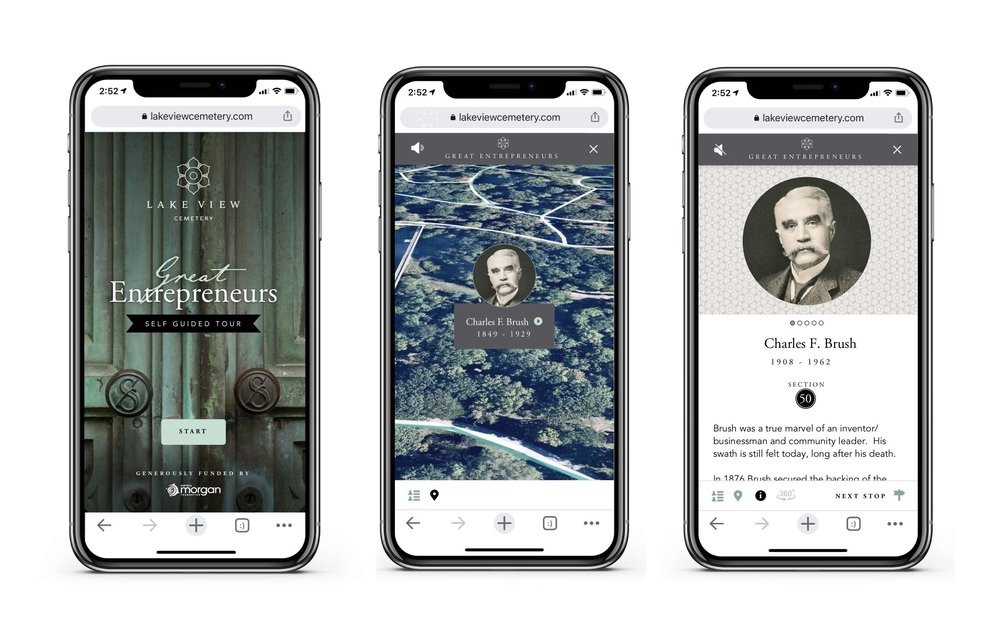 Historic Lake View Cemetery's self-guided tours are accessible from anywhere on the web, with enhanced location-based features that are activated when a person is on-site with a mobile device.
As virtual experiences grow in power and popularity, they are also becoming more thoughtful and strategic. In addition to being engaging, these experiences must now be accessible, inclusive, and demonstrate measurable outcomes. If you're considering developing digital experiences for your museum, set yourself up for success by asking a few strategic questions before you dive in:
Who is your audience of focus?


What existing programs might work well in digital format, or could be enhanced by digital content?


Why are you creating a virtual experience? What are your goals?



How can this virtual experience fit into your museum's strategic plan or business model?

What staff and financial resources will you need to create and maintain a virtual experience?


Design for Success
If you've decided it's time to create a virtual experience for your museum, here are 12 features that will ensure an effective outcome:
1. Immersive interface. Aim to create an online experience that uses compelling media and visuals to inspire engagement. It is worth noting that thoughtful and well-designed experiences can be immersive without the use of expensive hardware and costly content creation.
2. Interactive features. What can a user do by tapping, panning, using voice commands, or selecting with a stylus to directly interact with the virtual experience? Be sure to incorporate these elements in your digital experience.
3. Sensory feedback. When a user engages and performs an action, the experience should provide sensory feedback that acknowledges the action, such as playing a sound and providing a haptic (touch) response. Remember that different audiences have different sensory abilities, so be sure to consider more than one method of feedback for every action.
4. Educational value. Help the user understand something they didn't know, and inspire them to explore the topic beyond the content you provided.
"Dot" is a chatbot that serves a digital docent at Akron Art Museum. It runs on mobile devices and guides visitors through a choose-your-own-adventure style tour of the museum's permanent collection.
5. Accessible design. To benefit all users, ensure that your experience is visually accessible and captioned as well as compatible with assistive technologies such as screen readers. It should also function on mobile devices and tablets and work smoothly with limited bandwidth.
6. Quality visuals. Use compelling, high-resolution images and videos. Even historical photos and artifacts can be presented in a high-quality and visually appealing way. Historical documents can provide a refreshing surprise when experienced in a digital environment, and high resolution photos can provide extreme details and up-close access to objects that visitors cannot always experience in person.
7. Multi-sensory experiences. Engage multiple senses simultaneously, and provide multiple sensory options for users to consume your content.
8. User-selected paths. Consider offering a curated self-guided tour in "choose-your-own-adventure" format or as a location-aware, unstructured exploration.
9. Engagement elements. Incorporate gamified learning, quizzes, polls, or reflection/discussion questions to enhance retention and create a memorable interaction.
10. Personalization. Consider what you know about your user demographics to incorporate content and interactions that will resonate with them.
11. Call to Action. Be intentional about getting users to take action. Incorporate links to landing pages on your website that invite them to purchase a ticket or membership, sign up for an email list, shop for merchandise, or plan a visit.
12. Promote it! Perhaps most importantly, don't forget to tell your patrons, stakeholders, and community partners how – and why – to find your digital experience online. Create email and social campaigns that provide easy access to the new experience, and remember to cross-promote it in printed materials with QR codes or simple URLs.
Contact us to learn how we can help you attract more visitors and reach new donors with a digital experience for your museum.