Technology is helping museums and other nonprofits connect to patrons now more than ever. But for some, this may be uncharted territory. Regardless of your size or budget, there are many ways you can leverage the power of tech to engage your patrons from a distance. Here are some of our favorite examples to get you inspired.
---
Online games are popular digital engagement tools. The Cleveland Metroparks recently moved their educational kiosk games online. The games were previously accessible only onboard the Metroparks mobile classroom. But now, kids can enjoy them on any device with an internet connection. Check out our full case study on the project.
Mobile apps are another way that organizations are using technology to engage visitors. The Journey is an app developed by the National Holocaust Centre and Museum. The app allows users to step into the shoes of a child in Nazi Berlin through 360-degree virtual environments. A mobile app may be the way to go if you want to incorporate lots of content and complex features.

Akron Art Museum's "Dot"

Virtual docents are a great alternative to in-person tour guides. We helped the Akron Art Museum create a virtual guide to take visitors through a choose-your-own-adventure style experience using Facebook Messenger. Read the full case study to learn more. Visitors use their own devices to avoid contact with shared touchscreens. Virtual docents can also guide a fully digital exhibition so patrons can enjoy the curated experience at home.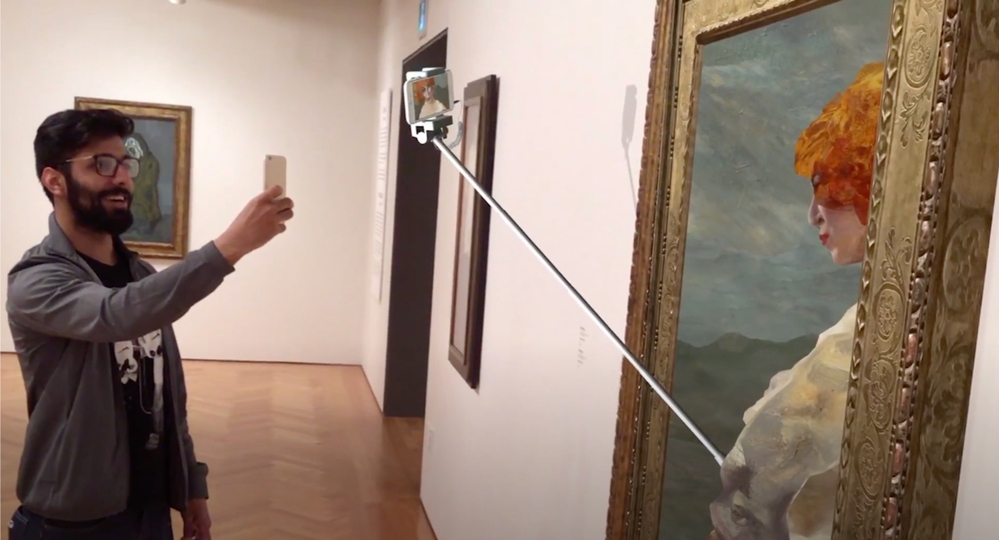 Augmented Reality at the Art Gallery of Ontario

Augmented reality (AR) is becoming mainstream as more museums are embracing new technologies. AR merges real life with superimposed images, text, or sounds. AR is accessible on your mobile device, eliminating the need for special hardware. Check out this example from the Art Gallery of Ontario that brings artwork to life.
Voice-activated technology is a great way to increase the accessibility of your museum offerings. The Canadian Museum for Human Rights is using a voice-enabled interface to immerse visitors in their exhibit about the Rohingya people. Read the full case study here.

Ursuline Sisters' Gamified "Donation Station"

Gamified giving can create excitement and encourage participation. We concepturalized and created this Kentucky Derby-themed donation game for Ursuline Sisters of Cleveland to make giving a bit more fun by allowing donors to "compete" against each other. When a group of donors swipes their credit cards using a DipJar device, they are assigned a horse. When all the donations are in, the horses race. The winner doesn't get a wreath of roses, but they do get to feel great about giving.
...

Learn how FORM can help create engaging digital interactive experiences for your organization.