Museums are employing augmented reality and virtual reality to enhance the experience of visitors and make exhibits more engaging.
---
These days, museum technology is having a moment. Museums of all sizes are looking to tech to create more engaging and educational experiences for visitors ranging from apps to chatbots to touchscreen interactives.
Virtual reality (VR) and augmented reality (AR) are coming into their own as versatile ways to bring museum collections to life.
What are VR and AR?
Virtual reality is an immersive computer-generated reality that transports the visitor into another place and time. Augmented reality uses computer-generated elements (video, images, etc.) to augment something in the physical world. Both have a number of applications to bring museum objects to life.
Let's take a look at a few innovative VR and AR solutions in the wild:
National Gallery of Prague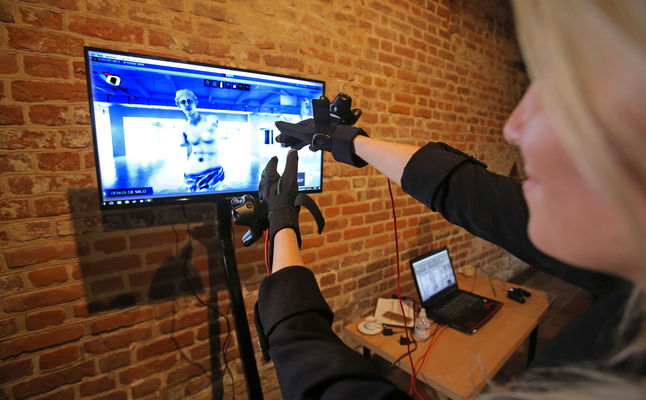 Many use VR to transport museum visitors into another place visually. But what if you can't see? The National Gallery of Prague launched "Touching Masterpieces," a campaign that actually lets visitors "touch" work like Michelangelo's David, Venus de Milo and the bust of Nefertiti using haptic Avatar VR gloves.
Detroit Institute of Arts
The Detroit Institute of Arts' "Lumin" uses Google's Tango technology to provide visitors with new, in-depth ways to engage with objects in the collection. The DIA is the first art museum in the world to integrate this 3-D mapping and smartphone augmented reality (AR) technology into a public mobile tour.
Carnegie Museum of Art
Plaster ReCast is an augmented reality app designed in collaboration with Carnegie Mellon University's Entertainment Technology Center that helps visitors better engage with the CMOA's architectural plaster cast collection (which is the third largest in the world). The app allows visitors to see 3D renderings of the plaster casts up close and view models of the original building to which it belonged.
Learn more -->





Photo by David Cruz on Unsplash